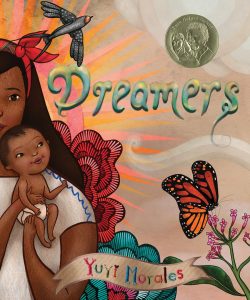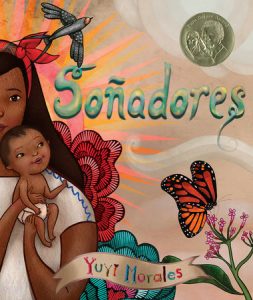 Dreamers
by Yuyi Morales
Illustrator(s): Yuyi Morales
Published by Holiday House, Neal Porter Books 
Hardcover | Pages: 40
Size: 9 x 11 | USD: $18.99
ISBN: 9780823440559
Age: 4-8
Themes: Themes: Acceptance & Belonging, Anti Racism / Black Interest / Own Voices / Activism Conversation Starters, Community, Contemporary Issues/Social Problems, Determination, Diversity & Inclusion, Human & Civil Rights, Immigrant Experience, LatinX, Perseverance.
Recommendations: K*, A*, PW*, SLJ*, H*
ABOUT THE BOOK
We are resilience. We are hope. We are dreamers. Yuyi Morales brought her hopes, her passion, her strength, and her stories with her, when she came to the United States in 1994 with her infant son. She left behind nearly everything she owned, but she didn't come empty-handed.
Dreamers is a celebration of making your home with the things you always carry: your resilience, your dreams, your hopes and history. It's the story of finding your way in a new place, of navigating an unfamiliar world and finding the best parts of it. In dark times, it's a promise that you can make better tomorrows.  
This lovingly-illustrated picture book memoir looks at the myriad gifts migrantes bring with them when they leave their homes. It's a story about family. And it's a story to remind us that we are all dreamers, bringing our own strengths wherever we roam. Beautiful and powerful at any time but given particular urgency as the status of our own Dreamers becomes uncertain, this is a story that is both topical and timeless.
The lyrical text is complemented by sumptuously detailed illustrations, rich in symbolism. Also included are a brief autobiographical essay about Yuyi's own experience, a list of books that inspired her (and still do), and a description of the beautiful images, textures, and mementos she used to create this book.
A parallel Spanish-language edition, Soñadores, is also available.
Winner of the Pura Belpré Illustrator Award!
A New York Times / New York Public Library Best Illustrated Book
A New York Times Bestseller
Recipient of the Flora Stieglitz Strauss Award
A 2019 Boston Globe – Horn Book Honor Recipient
An Anna Dewdney Read Together Honor Book
Named a Best Book of 2018 by Kirkus Reviews, Publishers Weekly, School Library Journal, Shelf Awareness, NPR, the Boston Globe, the Chicago Tribune, Salon.com— and many more!
A Junior Library Guild selection
A Eureka! Nonfiction Honoree
A Bulletin of the Center for Children's Books Blue Ribbon title
A Bank Street Best Children's Book of the Year
A CLA Notable Children's Book in Language Arts
Selected for the CBC Champions of Change Showcase
ALA Notable Children's Book, 2019
Amazon Best Book
Anna Dewdney Read Together Honor Book
Boston Globe-Horn Book Honor Book
Boston Globe Best Book of the Year
Bulletin of the Center for Children's Books Blue Ribbon
Chicago Tribune Best Book of the Year
Eureka! Nonfiction Children's Book Award Honor
Flora Stieglitz Straus Award, 2019
The Horn Book Fanfare
Instant New York Times Bestseller
JCLC Author Award recipient by REFORMA: The National Association to Promote Library and
Information Services to Latinos and the Spanish Speaking
Junior Library Guild Selection
Kirkus Prize Finalist
Kirkus Reviews Best Book
National Indie Bestseller List
New York Times/New York Public Library Best Illustrated Book
NPR Best Book of the Year
One Book, One San Diego Selection, 2019
Original Art Exhibiton
Publishers Weekly Best Book
Pura Belpré Illustrator Award Winner, 2019
Read Across Texas Statewide Program
Salon.com Best Book of the Year
School Library Journal Best Book
Shelf Awareness Best Book of the Year
Tomás Rivera Mexican American Children's Book Award, 2019
The Washington Post Best Book of the Year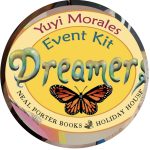 Featuring letter from author Yuyi Morales, activity pages to create your own book and tissue paper flowers, a book scavenger hunt, and lots more!
★ "Many books about immigration describe the process of making new friends and fitting in; this one describes what it's like to become a creative being in two languages, and to learn to love in both. 'We are two languages./ We are lucha./ We are resilience./ We are hope.'"—Publishers Weekly, Starred Review
★ "An immigrant's tale steeped in hope, dreams, and love. . . . Details in the art provide cultural markers specific to the U.S., but the story ultimately belongs to one immigrant mother and her son. Thanks to books and stories (some of her favorites are appended), the pair find their voices as 'soñadores of the world.' A resplendent masterpiece."—Kirkus Reviews, Starred Review
★ "The narrative text is poetic and full of emotion. . . .  the mixed-media illustrations are breathtaking, created through painting, drawing, photography, and embroidery. The joyous imagination and intricacy of each illustration will make readers of all ages explore them further. . . . "—Booklist, Starred Review

"Dreamers is a paean to libraries, to reading and writing and creativity, a value statement I endorse wholeheartedly. Dreamers aims for the glorious and the poetic; it's big, passionate, crammed with detail."—The New York Times Book Review

★ "The magical art marries the succinct and powerful narrative in a resplendent celebration of literacy, language, and the transformative power of the picture book form . . . This excellent memoir encapsulates the fears, hopes, and dreams that come along with immigrating to a new place . . . A timely and much-needed selection."—School Library Journal, Starred Review
★ "Every page of Dreamers vibrates with energy, depicting the emotions, the turmoil, the stress and the joy that come with creating a new life."—Shelf Awareness, Starred Review
★ "The gently hopeful text offers its best optimism when rooted in Morales' own experience. The immersive magical reality of the art is the real glory here; the mixed-media illustrations, including acrylic paint, drawing, and bits of collage, are full-bleed spreads that depict the library as a milieu every bit as startling and novel to the speaker as the U.S. itself."—The Bulletin of the Center for Children's Books, Starred Review
★ "A wise book and, to praise it in its own words, 'resplendent,' an eloquent vision of the 'resilience' and 'hope' of the 'dreamers, soñadores of the world.'"—The Horn Book Magazine, Starred Review
"Morales tells, through illustrations that seem to dance and sing, the story of crossing borders on a bridge of language with her young son. Together they discover picture books and public libraries, and the gifts they brought with them — open hearts, art, poetry and stories — blossom."—The Washington Post, Best Books of 2018