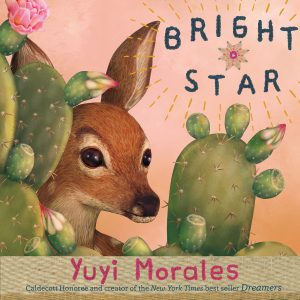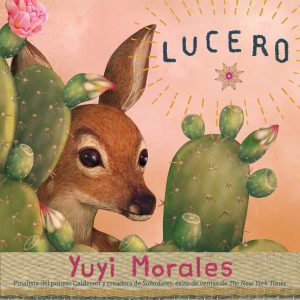 Themes: Emotions & Feelings, Family, Family & Relationships, Immigrant Experience, LatinX, Social Themes.
Age: 4-8
Publication Date: September 7, 2021
Season: Fall 2021
Pages: 40
About the Book
From the creator of the New York Times bestseller Dreamers comes a heartbreakingly beautiful story about growth, empowerment, and finding one's own voice.
Child, you are awake!
You are alive!
You are a bright star,
Inside our hearts.
Told with a combination of powerful, spare language and sumptuous and complex imagery that is typical of Yuyi Morales's work, this is the story of a fawn making her way through a border landscape teaming with flora and fauna native to the region. A gentle but empowering voice encourages her to face her fears when she comes across an obstacle in the form of an insurmountable barrier.
Yuyi Morales' first book since her New York Times bestseller Dreamers is a book for very young children looking for their place in a world full of uncertainty. It is a book with resonance for all children, especially those whose safety is threatened due to the immigration crisis in the US.
Bright Star is also available in a Spanish language edition, Lucero.
Dear Readers,
I made this book because you and I are connected, and even though that might be hard to see, it is real—real like the roots of trees and plants under the earth, sending each other signals and nourishment so that they can thrive together. I made this book because I have many questions: When we are wronged, how do we heal? How do we care for one another when we are apart? How do we love those we don't even know? I made this book to show you an amazing place on our planet called the borderlands, harsh and beautiful, where Mexico and the United States meet. I made this book to tell you the story of a whitetail fawn following her mother to find water and food, things they need to survive. But this story is about all kinds of life at the borderlands, some as tiny as the cyanobacteria, algae, and fungi that form the desert crust, and some as gigantic as a sixty-foot-tall cactus. I made this book knowing that children everywhere, but especially migrant children at the borderlands, have experienced things that they should never have to endure. I began writing Bright Star in the spring of 2019. I saw how people, sometimes walking in caravans, reached the border with the hope of entering the United States. Many of these people were families with children; some were children traveling alone. Few were able to enter, and when they did, often crossing the border at places like the one you see in this book, they were detained. Families were separated and many adults were sent back to their countries of origin without their children. It is possible you saw this too. It is possible you were one of those children. I made this book with the most beautiful things I could find—words written in English and Spanish, drawings I made in my sketchbook and later refined on my computer, paper painted with bright colors, wool yarn threaded by hand and dyed with plants by weavers in the city of Oaxaca, and one ball of wool I bought at this Chamula market in Chiapas, years before I knew I would use it to make this book. I used textures from photographs I took of things I believe should not exist, like a metal border fence and a concrete border wall in Arizona. But I also took a photograph of the arm of a baby I met with her mamá at a migrant shelter in Agua Prieta, Sonora. This I used for the color and texture of the children's skin you see in this book. I made this book because I want you to know that no matter where you are, where you've come from, or where you are going, you should be honored, respected, cared for, and loved.
Yuyi Morales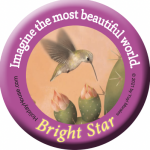 Print out your own stickers!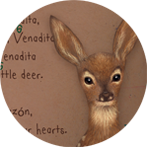 Canción para una venadita
A teacher asked me if I could share how I play the song for Venadita. I hope that this video might help readers to make , song and even play their own song for Venadita!s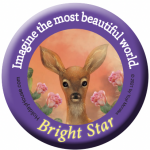 Download this fun event kit!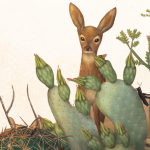 Educator's Guide
with Discussion Questions
★ "In English text that holds Spanish within it, Morales meditates on community, imagination, immigration, and the natural world, often pulling from current events and recent societal traumas. Thanks to some awe-inspiring moments and rather startling images, the fawn's journey moves at a dreamy pace, inviting further rereads. . . . Utterly beautiful."—Kirkus Reviews, Starred Review
★ "Beauty gleams from the pages. . . . Morales shares her love for the borderlands, shows the pain the border wall inflicts, and presents an invitation to learn more."—School Library Journal, Starred Review
★ "Morales (Dreamers) writes a love song to the land that forms the border between the U.S. and Mexico. . . . A visual shift links the fragility of the desert's life to the vulnerability of people stuck on one side of the border—both are at the mercy of oppressive forces, and their fates are intertwined. Yet Morales holds out the hope of a beautiful world, discussed in a lyrically written afterword."—Publishers Weekly, Starred Review
★ "[A] sensitive and evocative picture book. . . ."—The Horn Book, Starred Review
"A powerful, radiant picture book. . . . Bright Star is a marvel and a masterpiece, both a lullaby and a cry for survival."—Shelf Awareness